Every time I visit Jenn's blog my mouth waters. On that note, it's always a good idea to read her posts on a full stomach. Otherwise, you might find yourself derailed and heading to the kitchen to try and replicate some of the delectable, nourishing meals, like sweet and tangy, tagine-cooked pork ribs, red beet salad or fresh fig and sage grilled pizza, that Jenn has whipped up at home and kindly shares with her readers at The Leftover Queen.
In 2007, after unsuccessfully looking for work, Jenn started her blog and has been writing about scratch cooking that's creative and sustainable, healthful and frugal living friendly, ever since. Three years later, to pursue her passion for food, she and her husband moved to Vermont and started a homestead where Jenn could grow and raise more of the food that she prepares for her family.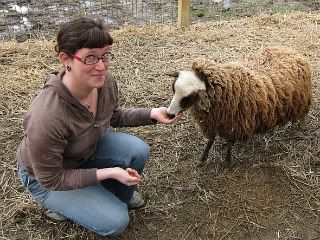 The Leftover Queen is also an appropriate nickname for Jenn, as she's quite obviously mastered the art of inventing tasty and satisfying meals for her and her family with what's on hand in the pantry, or by using up the odds and sods leftover from the previous night's dinner.
"Some people are artists when it comes to drawing, painting or sculpting--but that artistic passion comes out for me when I am in the kitchen," she says.
With every one pot, what's-on-hand, dinner's-in-ten type of meal that Jenn writes about, she's dispelling the myths that cooking from scratch is time-consuming or difficult. If her posts can't inspire you to get into the kitchen and cook something great, then I don't know what will.
"I think most people are taught to believe that cooking is complicated or takes too long," Jenn says. "In our busy culture, many people have opted out of the kitchen because they feel they either lack skill or time. But I don't believe that to be true. I try to re-frame things for my readers and give practical tips on how to get back in the kitchen without spending a lot of
time or money, both being so valuable."
This self-taught, home-spun cook is not only passionate about great tasting food, however, Jenn is equally zealous about where her food comes from and educating others about what they can do to reclaim their food too.
We have certainly become a society focused on convenience and as such our collective knowledge of practical skills has been waning for quite some time. Without the know-how to do things for ourselves, we've become increasingly dependent on others for a large portion of the goods and items we need for survival. Perhaps the most marked example of our dependency is food.  
Jenn says she and her husband decided to adopt a frugal living, more sustainable lifestyle, where they could learn the practical skills they would need to thrive in any sort of situation. They raise chickens, goats and sheep, grow vegetables and, of course, cook from scratch, to name just a few of their many practical skills. By doing so, they have reduced their dependence on the countless external factors that make our world less secure, like tanking economies, rising oil prices and, therefore, rising food prices.
But Jenn's desire for greater security isn't the only reason she advocates for greater independence when it comes to food. She says her years of working with a holistic doctor have also made her very aware of the fact that what we put into our bodies has a direct effect on our health and how we feel.
There's no doubt about it, where our food comes from and how it's prepared affects our health for better or for worse, even more so than it affects our wallets. Surprisingly, however, people have become so used to feeling less-than-healthy that they've forgotten what it's like to feel good, to feel full of energy. The problem, according to Jenn, is that so few put two and two together until it's too late, and it's only when they develop an allergy or other illness that they're forced to take a closer look at the foods they eat.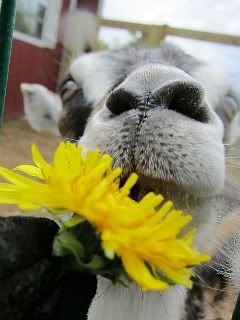 "I think people are starting to see that there is something very wrong with our food system, especially when something like a food allergy enters the picture for them," she says. "But I also think people in our society are so used to not feeling good, and think that is normal, that they just aren't putting the pieces of the puzzle together. When the norm is one in two children born will develop diabetes in their lifetime, people have really lost sight of what healthy is. I think there are many things contributing to this problem, and one of the biggest is what passes for food in this country."
Like all things in frugal living, prevention and preparedness are key when it comes to your health. By simply making an effort to prepare more of the foods and meals you and your family eat, to buy and eat less of what comes ready-to-go in a box, then you've already made one heck of a difference for your future.
The old excuse that cooking from scratch costs too much is about as true as saying money grows on trees. Cooking from scratch can be so frugal living friendly when you learn the right skills, get a better understanding of food cost and apply some of the thousands of kitchen-related money saving tips that are available.
Jenn says some of the ways she saves money is by stretching meals with lots of veggies or beans instead of meat, buying dried beans in bulk online, supplementing the foods she buys with her own produce or livestock, and buying locally so she's not paying extra for tasteless food to be shipped half way around the world. And, of course, Jenn regularly turns leftovers into new suppers that, if they taste half as good as they look, are definitely worthy of seconds, if not third helpings.
Just like there isn't much weight in the argument that cooking at home is costly, Jenn doesn't buy the excuse that there isn't enough time in a busy schedule to cook something nourishing and delicious.
"I would tell them there is no way that can be true," Jenn says. " 'Cooking' doesn't mean cooking complicated meals for hours in your kitchen. It can be as simple as chopping up some veggies and throwing them, some beans and some good ground meat in a crock pot and pushing the 'on' button. Now tell me that takes more time than waiting in line at the nearest fast food joint."

You don't have to start a homestead like Jenn, but you can find small ways to make what you eat more sustainable and conducive to your frugal living goals; growing a container garden and using your fres
h veggies and herbs in your cooking, buying locally-sourced foods when they're in season and raising chickens in your backyard, are just a few examples.
There are so many ways you can benefit from thinking of your food in a new way. For Jenn, peace of mind ranks high on the list of rewards and keeps her motivated in all of her food independence endeavors:
"The act of taking full responsibility for what I put in my body," Jenn explains. "I am not perfect, and we do go out into the world and eat foods that are questionable, but we are very conscious about it. We know it when we do it, it is not just some random unconscious thing, or worse yet, normal. In a complex world , where so many feel out of control and in some ways helpless, it is nice to have control over one of the most important aspects of life-health and maintaining that health through foods."
You owe it to your health and your wallet to visit The Leftover Queen--get the inspiration you need to reclaim your food too. When asked what she hopes to impart to her readers, Jenn had the following to say:
"That there is more to life than jobs and going through the world frazzled," Jenn says. "You can follow your heart and your dreams. You can make it happen in your own life. You can take control of your body and your health and the health of your family. Good food is not just for the wealthy, we all have access to it, but sometimes we have to look a little harder for it. But it is there."
I just realized I have almost everything I need to replicate Jenn's Cowboy Beans with Smoked Sausage. It might be June and nearly 40 degrees Celsius outside with the humidex, but this dish just looks too tasty and too easy to pass up. Off to the kitchen…
p.s. Jenn is also the founder of the fun farm blog, Got Goats?, and a co-founder of the social network site, FoodieBlogRoll—a must read for anyone who loves cooking.