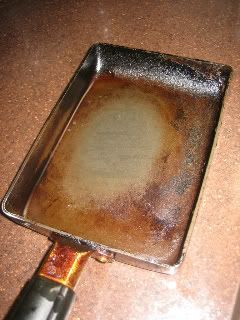 Every morning, my better half cooks an egg for his breakfast--on high heat. We have a great little frying pan that's just the right size to do the job but it's become nearly impossible to wash the burnt oil from the bottom of the pan. There's a thin black coating that just never seems to come off.
So, I started looking online to see how to clean burnt oil from a frying pan and was not at all surprised to see that baking soda was noted as one of the best ways to clean a pan with a black film of burnt oil. It never ceases to amaze me just how many ways baking soda can be used as a frugal living, green cleaning solution.
All you need to do is make a paste with baking soda and water (inside your frying pan) and, using the rough side of a scrub pad, rub the paste into and around the pan. Leave the paste to dry. When it's dry, wash the pan with soap and warm water and scrub away the film.
That little egg frying pan looks like new again, thanks to another frugal living solution for household cleaning.
For All You Frugal Living Enthusiasts:
*Have you come up with some creative and unique ways to save money? We want to hear about them! Tell us what makes you a frugal living enthusiast too.